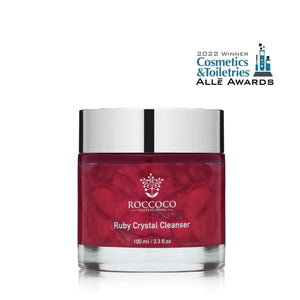 Roccoco botanicals
WARNING - Your Next Obsession awaits. 
WINNER of the Alle Awards 2022- A worldwide award that honours Cosmetic Innovation.
People are achieving their dream skin with this luxurious cleansing balm enriched with real rubies.
Every time you cleanse, be taken away to another world, where you are captivated by the softness and glide of each massage movement of your hand.  People tell us it feels like someone else is massaging them.  The perfect amount of glide and emollience.
Rich in antioxidants, anti-inflammatory oils and essential fatty acids to calm, nourish and restore the skin's barrier leaving the skin refreshed.  Luxuriously packaged in glass for sustainability.
Acne safe.