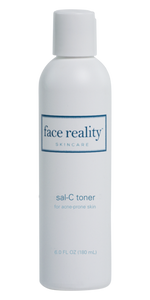 THIS PRODUCT REQUIRES A CONSULTATION WITH ONE OF OUR LICENSED ESTHETICIANS TO PURCHASE
Sal-C Toner is the new and improved version of Acnebeta-C Toner. It is a multi-functional toner that contains exfoliating ingredients and antioxidant support for the skin. Salicylic acid and White Willow bark both offer exfoliating properties. Vitamin C, Beta Carotene, and Niacinamide offer antioxidant protection.
This toner is safe for use on skin prone to breakouts and can also be used on skin that is not prone to breakouts.