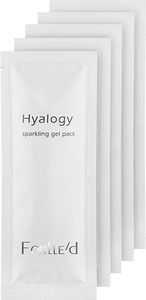 The mask is designed for those who live in big cities: it enhances cell metabolism, activates microcirculation, improves tissue respiration, promotes detoxification. It has a pronounced instant effect: the skin appears glowing, smooth and fresh. Sparkling gel pack can be used not only as a «beauty mask», but also as a course to stimulate microcirculation and regeneration.
What does it do?
instantly evens skin tone
instantly brightens and freshens up the skin
improves skin microrelief
reduces the appearance of small wrinkles
provides gentle lifting effect
instantly stimulates collagen synthesis and provides an immunomodulatory effect
How to use
Apply gently to cleansed skin, avoid applying to the eye area; leave on for 5 to 15 minutes. Carefully remove the mask with a wet towel; apply Forlle'd lotion, Forlle'd serum and Forlle'd cream. Use 1–2 times a week for a cleansing effect on oily skin or 2–3 times a week to get modelling and rejuvenating effect.
Science behind the product
The mask contains a complex of royal jelly and soybean glycine fermented with Bacillus subtilis enzymes and working as a postbiotic. Under this postbiotic action, stimulation of collagen synthesis, immunity normalization, the proper synthesis of lipids that protect the skin, as well as the formation of native vitamins occurs in the skin, which significantly increases the biostimulating efficiency of both royal jelly and glycine soybeans.