About Blue Water Spa Long Island
Nestled in the heart of Oyster Bay, Blue Water is the go-to for expert skin care, massage, body contouring, and laser.
At Blue Water Spa you'll experience a spa that pampers you, while also providing sophisticated treatments that leave you looking amazing. With eight licensed experts available seven days a week, you'll have more than 20 years of experience working for the health and beauty of your skin and body.
Of the hundreds of clients we've helped, many have said that we offer the best facials in Oyster Bay, Long Island. It will be our pleasure to share our talents and passions for wonderful skin with you. Owner and esthetician Rachel Lozina is committed to educating as well as treating her clients. After working with a handful of Manhattan and Long Island plastic surgeons, she decided to bring her para-medical knowledge to the calming environment of her own spa. The result is an array of treatments that include top quality, luxurious facials.
We are proud of our caring and dedicated staff. Our goal is to have our skill and performance exceed your expectations, and to stay ahead of the curve by giving ourselves new challenges and staying abreast of the latest advancements. We consider ourselves progressive in that we feature services and treatments not available elsewhere in the region. For the anti-aging, teen and men's facials you desire, come to the Blue Water Spa and experience the ultimate in relaxation and pampering. You'll love the way you look and feel! 
---
Learn Why Blue Water Spa in Oyster Bay is the Best Rated Facial Spa on Long Island!
---
Meet Our Staff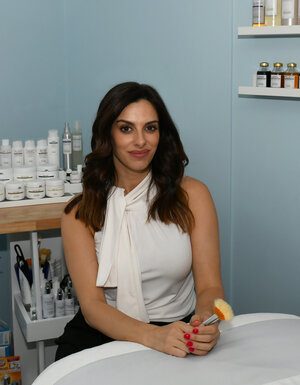 Rachel Lee Lozina
Owner/New York State Licensed Esthetician, Laser Technician & Oncology Esthetician
Rachel Lee Lozina, truly loves what she does and takes pride in her passion and knowledge about skin care. Rachel was trained at the prestigious Colorado School of Paramedical Aesthetics in Denver, Colorado. She started her career in the spa setting, but quickly felt limited and wanted to expand her knowledge into medical esthetic's, which she was trained in. Since then she has worked for numerous Plastic Surgeons in Manhattan & Long Island. Rachel has been featured in Newsday, Long Island Image, Hamptons Magazine, Dermascope and Long Island Pulse. Skilled in the applications of Facials, Microdermabrasion, IPL treatments, Laser resurfacing, Laser Hair Removal, Laser Skin Rejuvenation/Skin tightening, Dermaplaning, Mild and Deep Chemical Peels, Microcurrent Facial Contouring and Oxygen Therapy. She opened Blue Water Spa in 2008, she brings a hybrid of result oriented skincare services paying special attention relaxing and restoring your mind and body. Taking care of your skin specifically but also making you feel amazing is what being under Rachel Lozina's care is all about. Rachel is married with 3 children and lives in East Norwich.
---
Lynn Garufi
New York State Licensed Esthetician & Licensed Practical Nurse, LPN
Lynn has been working in the field since 1993, A graduate the Gloria Francis Institute for Esthetics and Jon Louis for Cosmetology, her expertise includes anti-aging skincare as well as treating Acne, Peri Menopausal skin. Lynn has worked at numerous spas perfecting her craft in Microdermabrasion, Oxygen treatments, Waxing, Microcurrent technology and flawless Airbrush Tanning. Lynn has dedicated dozens of hours in Continuing Education courses, lectures and seminars to further her knowledge in the cosmeceutical skincare industry. Lynn has been an asset to our company since 2009 and we are proud she represents Blue Water Spa.
---
---
Jamie Kaufman Watkis
LE, LMT
Jamie is a seasoned esthetician, veteran massage therapist and expert aromatherapist with over 20 years experience in advanced skin care and body work, Jamie has a thorough background in both holistic and medical massage. Using the best of what both science and nature have to offer, this New York State licensed member of Associated Skin Care Professionals and Associated Bodywork and Massage Professionals prides herself on delivering skin changing therapies whether you're struggling with acne, sun damage or just need to switch gears and reset your skin health.
---
  Breana Hume
New York State Licensed Esthetician 
Breana has been licensed since 2018 and has a passion for skincare and science. In her free time, she loves to expand her education and is constantly listening to training on skin physiology, product ingredients, and machine modalities, staying up to date with the newest trends in the skincare industry. She's drawn to manually sculpting, lifting, and firming the skin through facial massage. Breana prides herself on expanding her skills and believes every touch on the face should have an intention behind it. She's experienced with Microcurrent, Microdermabrasion, Peels, Dermaplaning, Oxygen Treatment, and Buccal Massage. Breana is also a 200 hr Yoga Instructor and a Reiki Level 1 Practitioner. Breana's goal is to make you feel relaxed and re-nourished while giving you a hyper personalized skincare treatment!



---
Emily Marques
Spa Manager & Chief Financial Officer
Emily Marques graduated with a degree in Accounting from Long Island University at C.W. Post. She has over 25 years of varied experience in the accounting and financial operations of diverse businesses from Wall Street to her current position as Chief Operating Officer here at Blue Water Spa. Emily truly loves combining her financial and social skills and bringing true happiness to clients and staff.
---